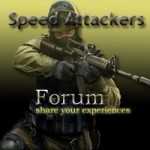 We have just launched our Counter Strike Forum; see it here. The idea is to provide the Counter Strike and other gaming community (in Pakistan) a place to share and discuss different aspects of gaming. You can share your experiences, discuss different map strategies and post any news updates as well. Players, who are facing some problem in configuration, may find their answers in the posts contributed to the forum.
All you have to do is register an account at our forum, and once your account is active, you can create topics to your liking, reply to an on-going discussion, and many more.
We hope that in a few weeks time, our active community would match the likes of GotFrag. So start posting already!